Women's Economic Opportunity Event featured panel and resource fair
Yesterday, U.S. Congressman 
Scott Peters
 (CA-52) hosted a forum on improving economic opportunity for women entitled 'When Women Succeed, San Diego Succeeds.' The event featured a panel discussion with special guest Congresswoman 
Linda Sánchez
 (CA-38), co-chair of the Labor and Working Families Caucus in the House of Representatives. Topics included access to capital for women-owned businesses, pay equity, the impact of available child care, and expanding educational opportunities for women.
"Between lacking pay equity and expanding access to capital, it's clear there is still work to do in fostering economic opportunities for women and girls across the country," Congressman Peters said. "I'm excited that so many USD students and local business owners were on hand to hear from Congresswoman Sánchez and these local businesswomen about their experiences in business and government. I look forward to continuing this dialogue in coming months with local community members, educators, business leaders, and my colleagues in Congress to make sure we're moving the ball forward."
"Today, women are playing a larger role in providing economic security for their families," said Congresswoman Sánchez. As a working mom, I understand there are policies we can enact that will help women navigate the challenges of balancing a career and a family. Too many women are one paycheck, one doctor appointment, or one car breakdown from economic ruin. We need paid family leave and medical leave, a fair minimum wage, and equal pay so that women can raise themselves up and better provide for the children who are the future of our country. I stand with Rep. Peters in recognizing that when women succeed, our country succeeds."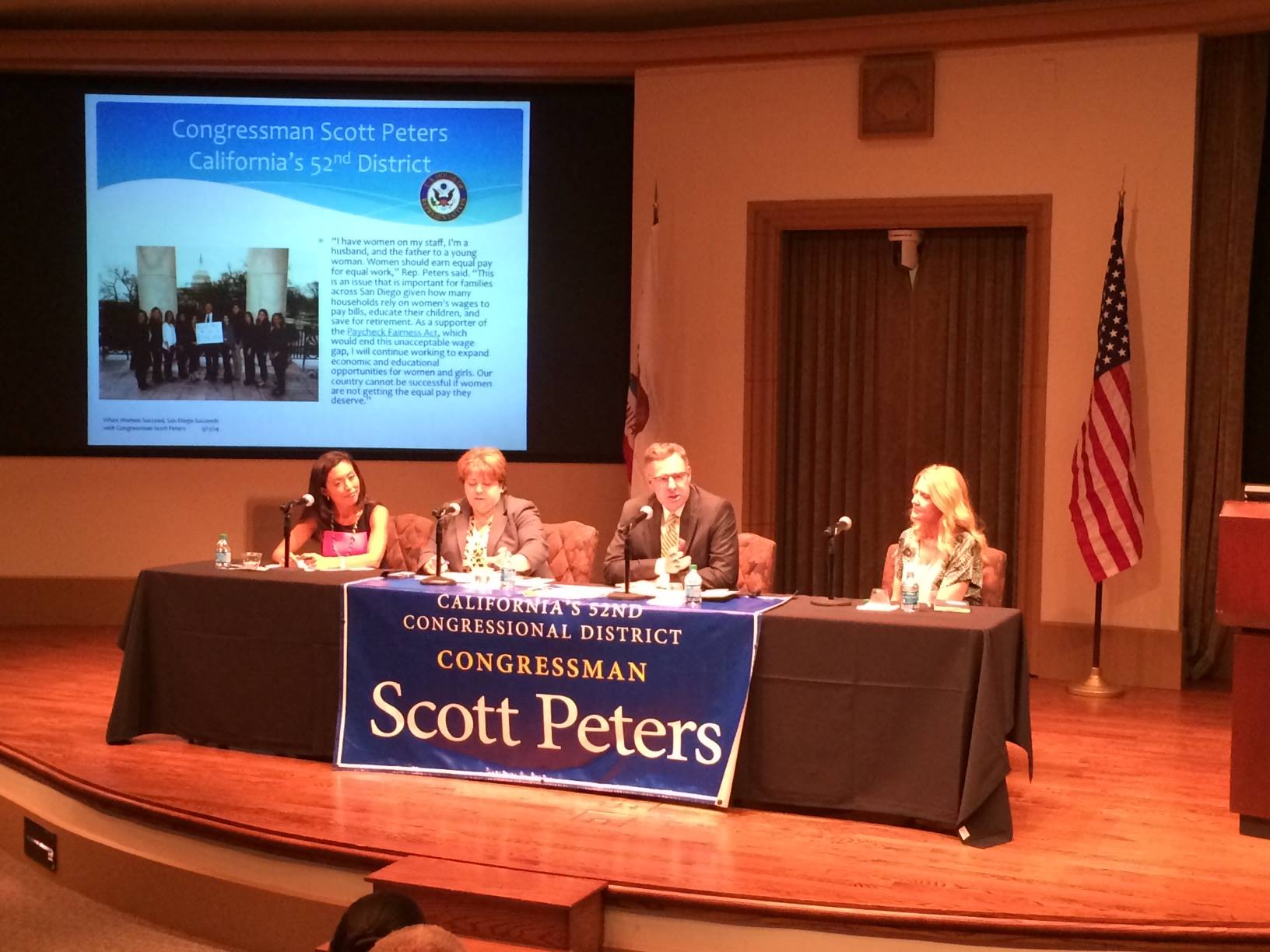 Also scheduled to speak at the event were three local businesswomen who spoke about their individual experiences:  Wendy Urushima-Conn – President & CEO, Asian Business Association of San Diego; Jamie Moraga – President & CEO, intelliSolutions Inc.; Felena Hanson – Founder, Hera Hub.
"The woman-owned small business program has made progress against many odds but we still have some challenges to overcome before we can deem it a success," said Jamie Moraga. "I thank Congressman Peters for having this much needed conversation to help build and support woman-owned small businesses in San Diego and across the country."
Additionally, the North San Diego Small Business Development Center hosted by MiraCosta College was on hand for a presentation on services available at no cost to small businesses including one-on-one business advising and training workshops on all realms of managing a business including access to capital and procurement opportunities for women in business.
###